BUSINESS SPOTLIGHT
OakStop
Community Bank of the Bay Steps Up to Help Black-Owned Businesses During Pandemic
CBB along with NCIF co-sponsors community-focused entrepreneurship with a joint total of  $20,000 donation to Oakland Black Business Fund
CBB Partners with OBBF to Reach Those in Need
NONPROFIT SPOTLIGHT
Riekes Center Finds Its Way Home
Community Bank of the Bay Steps Up for Riekes Center at a Critical Moment
"We wouldn't be here if it wasn't for the Community Bank of the Bay. At a time when it was very difficult, we had to buy our building," said Gary Riekes, Founder and Executive Director of the Riekes Center. After more than 20 years in its Menlo Park location, the center's home—an old industrial building—went up for sale in 2017 and Gary had one month to purchase it or move.
A Center Where Everyone Is Welcome
NONPROFIT SPOTLIGHT
Connecting a City and Its Artists
Oakland Art Murmur Promotes Art, Culture, and Community
"What I value with CBB is that when I go in, I know the people that are there and I know they live in my community," Durant said. "They want to see the city thrive."
Art Murmur Brings Vibrance to Our Community
BUSINESS SPOTLIGHT
Meet Eric
Owner, Gather Restaurant
"We found an amazing partner in Community Bank of the Bay, who believed in what we were doing and took the deep dive to help us create this beautiful establishment."
HOW GATHER ESTABLISHED AND GREW ITS BUSINESS
NONPROFIT SPOTLIGHT
Meet Tim and Jill
The Rose Foundation
"Community Bank of the Bay is fundamentally dedicated to improving the fabric of life in Oakland."
How CBB Works with the Rose Foundation
BUSINESS SPOTLIGHT
Meet Michael
President, UrbanCore Development, LLC
"The Coliseum project… is a 110-unit mixed income property. We have our operating accounts for the property with Community Bank of the Bay, mainly because of the customer service they provide, which is important to us. Also, we wanted to work with a community-based bank."
HOW URBANCORE PARTNERED WITH CBB
NONPROFIT SPOTLIGHT
Meet Dennis
Business Owner, School Foodies
SchoolFoodies is a certified Bay Area green business that provides fresh, healthy meals to local school kids. The BAGF helped them green their production line while cornering a growing niche market.
HOW SCHOOL FOODIES GREENED AND GREW
BUSINESS SPOTLIGHT
Entrepreneur Tegsti Woldemichael says her future is bright.
Pandemic lockdowns may have slowed their growth in 2020, but their outlook is changing. Women-owned retailers and operators are poised for growth as businesses reopen their doors.
Entrepreneur Tegsti Woldemichael says her future is bright. This month she is opening an Italian-inspired bakery and deli called La Dolce Vita near the MacArthur BART station in Oakland. New countertops, floors, and baking equipment were purchased with an SBA small business loan. "I'm very excited for people to come into my place," she said. Her current optimism is born from the months she struggled to navigate last year after Covid-19 food service rules shuttered her other retail business, spice company Shamden Spice. Headquartered in Oakland, Shamden Spice represented four years of hard work to grow it into a national retailer of Ethiopian and Eritrean spices. Pandemic food service closures shut down Ms. Woldemichael's warehousing and operations.
Women-owned businesses and female entrepreneurs are a dynamic part of the local economy.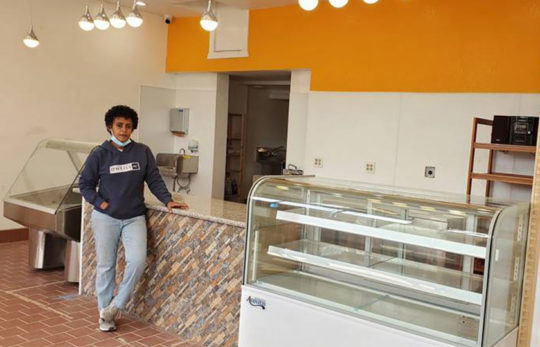 Open an Account with CBB Today