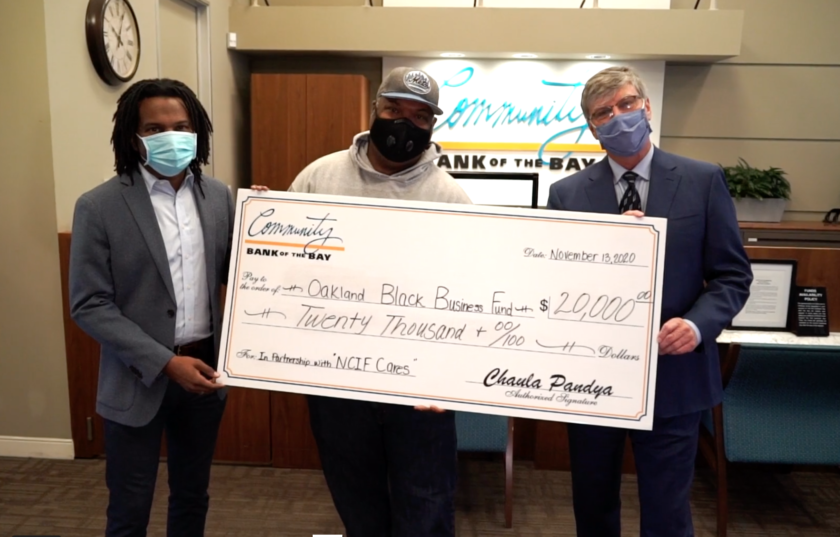 Oakland Black Business Fund
Community Bank of the Bay Steps Up to Help Black-Owned Businesses During Pandemic
CBB Community Partner
Community Bank of the Bay Steps Up to Help Black-Owned Businesses During Pandemic
CBB along with NCIF co-sponsors community-focused entrepreneurship with a joint total of $20,000 donation to Oakland Black Business Fund
As a community bank, we're here for local businesses and entrepreneurs.  When the pandemic shuttered shops and services, we actively reached out to our clients, especially businesses in communities of color, to help them remain in operation. Our first move was to rapidly process PPP loans for our clients. We also offered loan repayment flexibility so clients could manage expenses. Recently, in partnership with the National Community Investment Fund (NCIF), we awarded a grant of $20,000 to the Oakland Black Business Fund (OBBF) to help Black-owned businesses manage the adverse effects of the pandemic. 
OBBF was started by CBB client Trevor Parham, founder of Oakstop, a coworking and event space dedicated to fostering Black entrepreneurs. Parham's vision is to develop a community-based model of entrepreneurship that includes funding for local businesses, networking opportunities, and an investment portfolio that funnels capital back to the community in order to build wealth and create jobs. As Parham's banking partner, we helped his vision take flight. 
OBBF provides capital, technical assistance, and business strategy to Black-owned businesses in Oakland and across the country. During the pandemic, it has focused on helping its local grantees keep their operations running.
"After learning about the NCIF Cares initiative, we saw a natural alignment between our impact goals, the work of Oakstop's nonprofit arm, Oakstop Alliance, and their OBBF initiative," said Helen Wyman, CBB Community Banking Officer. "Our grant demonstrates not only CBB's commitment to the community but the power of local collaboration. Simply stated, banks can, and should, do good."
Creating a new, equitable future for our communities is our vision—and we're delighted to work with organizations like Oakstop and OBBF to ensure that help reaches the local businesses that need it most.