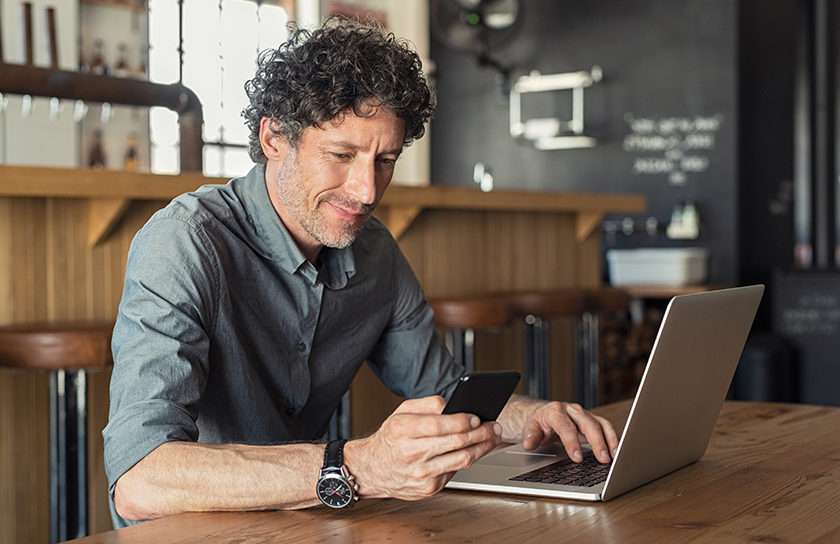 Individual Mobile & Online Banking
Fast. Convenient. Simple as That.
Why limit yourself? At Community Bank of the Bay, you can do your banking in any way you like — in a branch, at your desk, or on the move.
Sleek and Secure

Our online portal and mobile app are designed for full function and ease of use, with the best in digital security.

Anytime, Anywhere

Manage your money from anywhere with our mobile app. You can bank on your turf, on your terms.

Tools at Your Fingertips

Check your account balances. Move money in real time. Set up recurring transfers and pay your bills online.
Get Online Alerts

Want to monitor your transactions more closely? Set up custom alerts, and you'll receive a notification each time a designated event takes place. Whether you're tracking one-time or recurring events, our online banking alerts will keep you informed on virtually any schedule — from once a month, to every few minutes.

Low Balance — find out when your balance falls below a certain amount
Presentments — get an alert when a transaction is posting to your account
Withdrawal — know every time a debit is posting to your account
Checks Cleared — be notified when a certain check number posts to your account

Download the App

Ready to put your bank account in your pocket? Get the CBB mobile app, and bring the power of digital banking with you wherever you go.
the first time you log into online banking you should be given an option to enroll in electronic statements. Additionally, it can be setup by just emailing your relationship manager, branch, or centraloperations@bankcbb.com. Make sure to indicate which accounts if there are more than one, but DO NOT send full account numbers via email.
No, not at this time; please contact your account officer or someone in the branch to order checks. If you have an existing check, you can order checks directly with any check printer or a vendor like Costco.
Yes, transactions that are posted to your account mid-day will be reflected in your balance immediately and show on your account as "pending" until nightly processing occurs. This includes mobile deposits and ATM deposits. At night, the transactions are "hard" posted to your account.
You Might Also Be Interested In
Money IQ
Flex your financial muscle with these freshly informative videos, packed with relevant, useful information to help you master your money.
Go to Money IQ
Individual Credit Cards
Get some extra breathing room with the CBB MasterCard®, thanks to our partnership with the third-party vendor TIB.
Learn about credit cards
Get Started with Online Banking