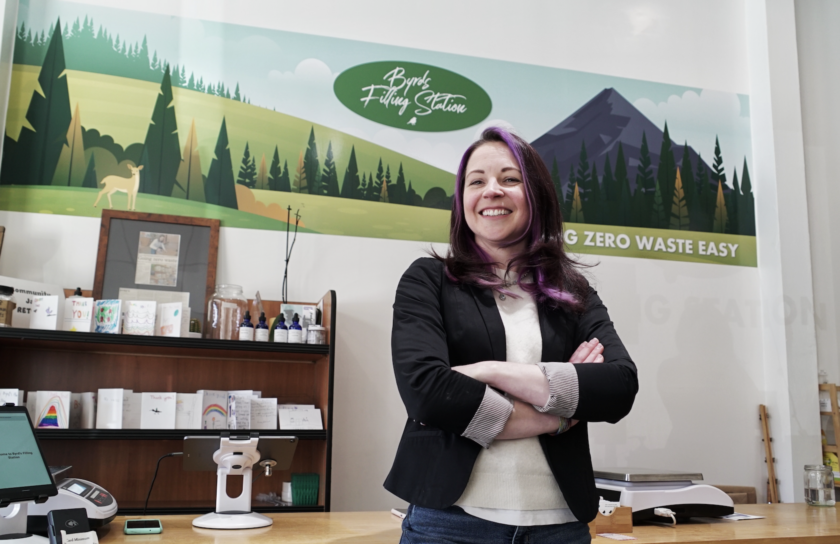 Byrd's Filling Station
Byrd's Filling Station Puts Their Money Where Their Mouth Is — And So Do We
CBB Community Partner
Byrd's Filling Station is creating an environmentally sustainable economy one jar at a time.
Banking on a Sustainable Economy, Byrd's Filling Station of San Mateo Offers a Zero-Waste Approach to Grocery Shopping
The Bay Area has always been at the forefront of the environmental movement, so it's no surprise that Byrd's Filling Station was home-grown in San Mateo. As a leader in combating the consumption of single-use plastics, Byrd's is looking beyond her retail store to make the world greener.
Impressed by the bank's streamlined services and commitment to safeguarding the environment, Laura Porter, owner of Byrd's Filling Station in San Mateo, chose Community Bank of the Bay as her business bank of choice.
Laura, an activist-entrepreneur with nearly 20 years of experience working in finance for iconic brands such as the San Francisco Giants, appreciates how CBB shares her business and personal values.
"Byrd's Filling Station is happy to partner with Community Bank of the Bay because of the sense of community," Laura said. "It was really through community philanthropic organizations that I met the bankers."
"And over the years, they have been a great partner in helping us understand how we can look at our finances, how we can access capital, and how we should consider setting up the business to make sure that we can be the most profitable and get the best terms."
Byrd's Filling Station, San Mateo's first "zero-waste" store, won the 2020 Green Award from the San Mateo Chamber of Commerce. A zero waste store avoids the use of plastic products, for starters. 
"Every toothbrush we've ever used still exists somewhere," Laura said. "Every disposable diaper that we've ever put on our children still exists. Every disposable diaper that may have been put on us still exists—it's a horrifying thought. And we think that they're going to exist for hundreds more years." 
"It's not just our children's future that we're addressing here. It's really the future of our grandchildren and great-grandchildren, and what we're leaving for a much longer time than we are on this planet."
 Laura credits CBB with helping Byrd's Filling Station, which she's owned since 2019, become an iconic green business in the Bay Area. 
CBB also finds the perfect partner in Byrd's. Since its founding in 2006, CBB's Bay Area Green Fund seeks out businesses and projects that align with its mission and values—to create a more environmentally sustainable economy. 
"We appreciate CBB's values around not only investing locally and investing in small businesses, but also putting that investment towards businesses that are green that might be within the Certified Green Business network or that are doing things in such a way that they are contributing to the community—both environmentally and socially," Laura said.